House Characteristics
Villa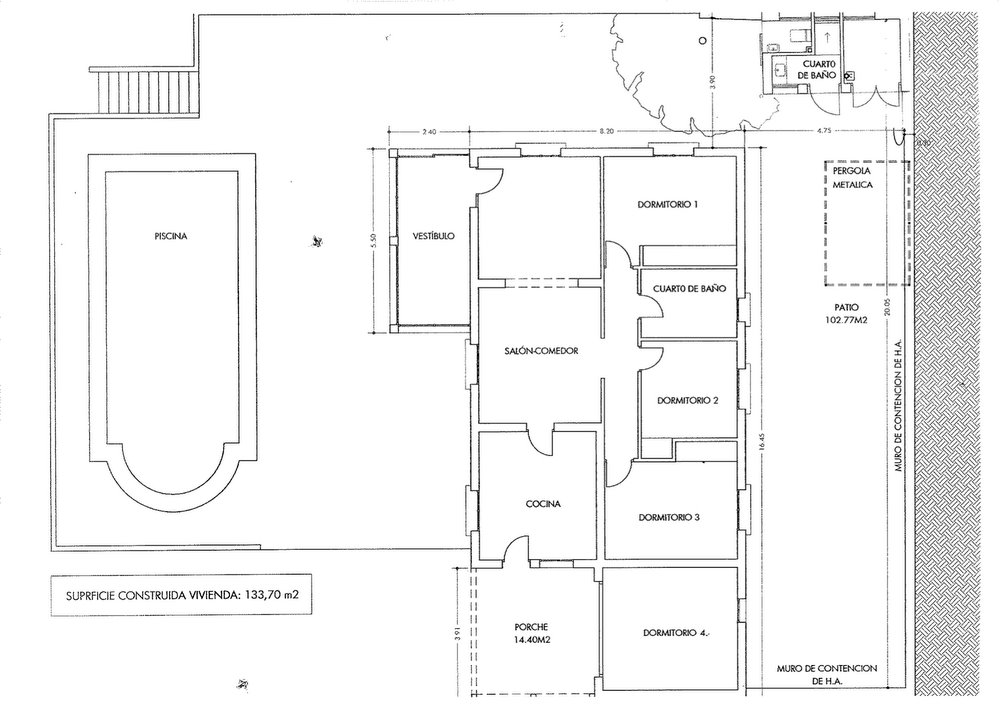 Useful size:

135 m2 - ground floor

Living:

30m2

Kitchen:

12m2

Number of bedrooms:

4

Number of bathrooms:

2

Number of toilets:

2

Veranda:

10m2

Patio:

14m2 with furnitures

Terrace:

140m2 with furnitures

Heated swimming pool:

9m x 4m

Garden:

3000m2
Click on the picture on the upper right to see the house map of Casa Carisma
Accomodations
Living
Furniture
1 sofa 3 seats, 1 sofa 2 seats, 2 occasional tables, 1 coffee table, 1 extension table, 8 chairs, 1 baby chair, 2 buffet, 1 wall cupboard
Audio/video/internet
Radio, CD, DVD, TV, Satellite receiver
Games/entertainment
several board games, cards game, CD's, DVD's (also for children), books, toys for children
Heating/airco
Air conditioning in living, hearth fire, 2x electric oil radiator (for the bathrooms)
Kitchen
Machines
Gas stove – 4 pit, electric oven, cooker hood, micro wave, dish washer, washing machine, mixer, kitchen balance, electric fruit press, toaster, iron + ironing board, water boiler, coffee maker , 2 x refrigerator, freezer, vacuum cleaner
Accessories
All tableware, water-/wine-/cava- glasses, dishes, cups, cooking utensils, ... are sufficiently available
Bedrooms
Bedroom 1
13m2, double bed 200x160 + feather bed, commode, spacious built-in wardrobe, ventilator, chair
Bedroom 2
9m2, 2 single beds 200x90 + dekbed, ingemaakte kleerkast, ventilator
Bedroom 3
14m2, double bed 200x160 + feather bed, commode, spacious built-in wardrobe, ventilator, chair
Bedroom 4
15m2, double bed 200x160 + feather bed, commode, wardrobe, ventilator, chair, refrigerator
Child beds (baby's 0-2 jaar)
2 pieces, easily to set up in a bedroom . Linen and blankets are provided for it.
Bathrooms
Bathroom 1 (beside the bedrooms in the main building)
8m2, bathtub with shower, lavabo, toilet, bidet, airer, hairdryer
Bathroom 2 (adjoining)
Shower – jetstream, lavabo, separate toilet
Storeroom
Beside bathroom 2
Vacuum cleaner, floor cloth, buckets, brushes,...
Reserve gas bottle
Veranda
10m2 - beside: living/terrace/barbecue, Ideally when the time is a bit less...
2seat bench + 2x1seat benches, coffee table + occasional table
Outside facilities
Terrace 140m2 (South side , fenced off with low wall)
3 parasols, 2 big tables, 6 adjustable chairs, 10 terrace chairs, 6 relax long chairs, exterior lighting
Swimming pool (private, open air, built in)
9m x 4m, depth: 1.35m till 2.00m, step in ladder, heated by sun collectors, safety cover, outside shower
Side terrace with barbecue (beside the big terrace)
40m2, fix model, grills, Barbecue accessories, wire brush for cleaning, exterior lighting
Patio (beside kitchen)
14m2, 4 terrace chairs, 1 terrace table, exterior lighting
Garden 3000m2, slanting
Private driveway , Carport, a lot of parking place, fenced off with hedge
Plants: varied Mediterranean plants, varied trees/fruit trees: lemons, oranges, bananas, figues, almonds, flowers...
after rain: a lot of weeds...
Courtyard: 85m2 (backside of the house)
partially covered with grape (planted 2009), pergola 8m2, table tennis, exterior lighting, airer