Description of the villa
Casa Carisma is situated between Almogía and Villanueva de la Concepción, 45 km to the north of Málaga. It is located in a small urbanisation of typical Spanish white villas, each with its own style and character. The villa is well situated and accessible through asphalted roads. The central location within Andalucia, makes of it an excellent starting point for all kinds of trips.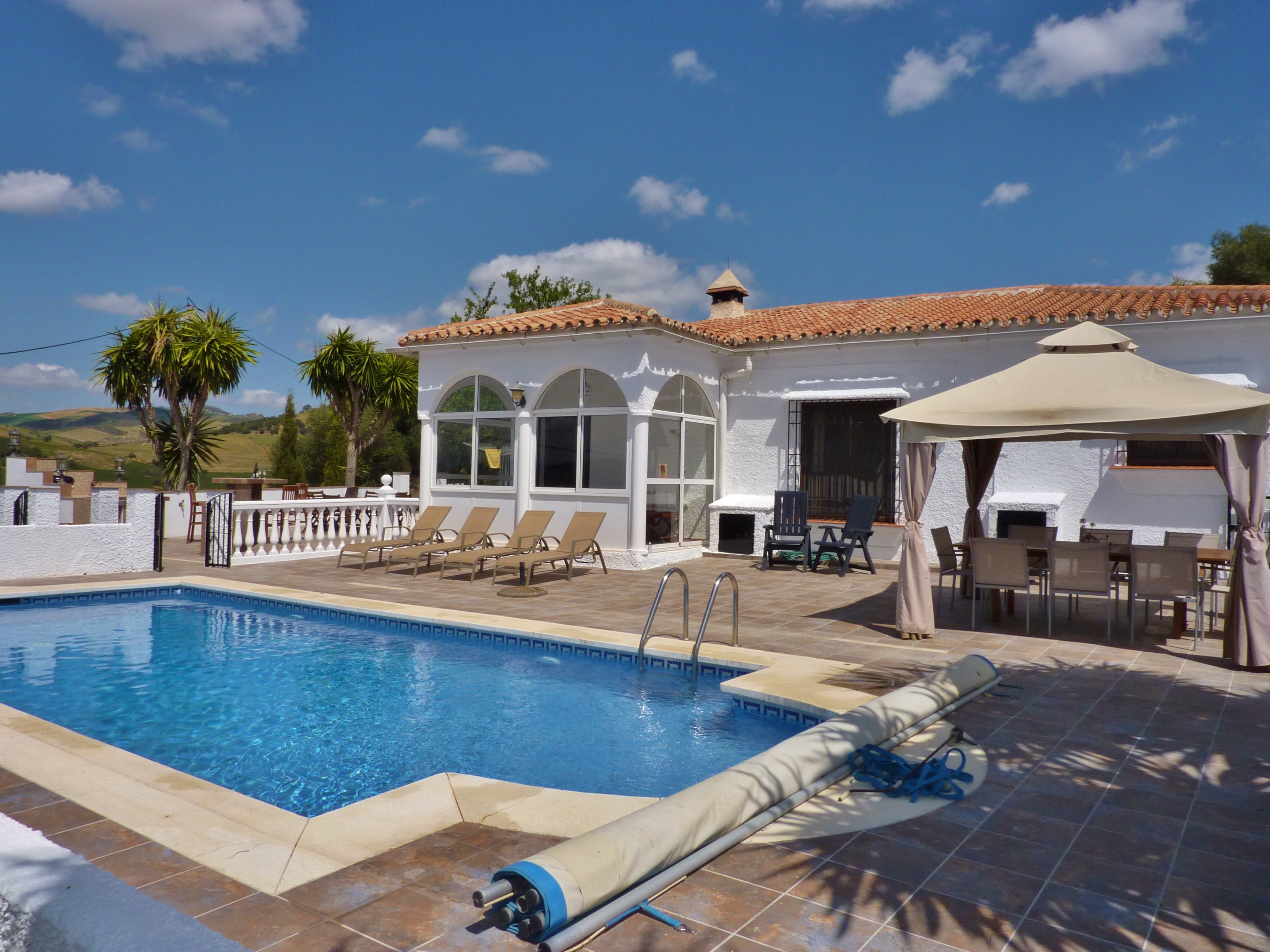 Casa Carisma is overlooking the surrounding hills and valley. The panoramic view is absolutely breathtaking and the sunrises and sunsets are magnificent. All this is even more accentuated by a beautiful garden (3000 m2) strewed with Mediterranean plants: agaves, yucca, bougainvillea, cactuses, phoenix, lemon and orange trees, ...
Of all these things, you can enjoy from a big private south terrace (110 m2) with heated private swimming pool (9m x 4m), so the sun is guaranteed the entire day. Beach chairs and garden furniture invite you to doze away, parasols bring you the necessary coolness together with a fresh dive in the swimming pool.
The swimming pool is provided with a security cover, so important for the safety of you dearest little darlings. On top, it keeps the heath into the swimming pool during the colder spring and autumn nights. The heating of the swimming pool makes it possible to obtain an agreeable temperature as from mid April till mid November.
Outside a driveway brings you through the garden to the side of the house. Here is situated a covered patio with access to the kitchen and the 4th bedroom. At the other side of the house the barbecue and its terrace will invite you to live through unforgettable moments together with your family and friends. This is just beside the swimming pool. At the backside there is a courtyard, partly covered with grapes. You can play here thrilling table tennis games.
And if the weather would be a little bit less or when it would be a little bit cooler, the veranda will let you continue to enjoy warmly and cosy.
For more details we refer to the plan of the house and the facilities.
Casa Carisma offers you peace and calmness, here you can hear the stillness... All elements are there in order to enjoy a wonderful holiday, only you, your family and your friends are still missing... be welcome!